Description
Utilizing a special scarf for your treatment adds an important dimension of comfort and effectiveness for you and your client. Ohashi has been developing this useful technique with his therapists and clients for more than 45 years.
He demonstrates how a healing scarf can be utilized to relieve discomfort from structural problems on the neck, legs, arms, torso and back and to treat some meridians. You will learn how to properly fold and hold the scarf, and how to use your natural gravity to produce an effective treatment.   
Because you are using a scarf, this method is safe and easy to practice. For example, when your hands are cold, tight or nervous, using a scarf can make your client feel more comfortable, especially those clients who may not like to be touched directly. The receiver does not need to unrobe; the giver does not need to use oil or lubricant. Using a scarf is a clean and environmentally friendly method.
This course is designed for bodywork therapists,  yoga and exercise instructors, aestheticians and the layperson who is motivated to give healing touch.
This online course will be taught over 4 Sundays, 1½ – 2 hours each. Ohashi will demonstrate, then you will practice on your partner, and your partner can also practice on you. After each practice session, Ohashi will go over the technique again. He will aso view some participants while they are practicing and critique their practice. 
ORDER OF CLASSES
CLASS 1: Treating the neck

7 cervical vertebrae, head and face

CLASS 2: Treating the lower back

5 lumbar vertebrae, bi-lateral evaluation and hara

CLASS 3: Treating joints

shoulders, hips and ankles 

CLASS 4. Specific to Lower Back Pain

how to treat lower back pain utilizing only the Ohashi's scarf technique. Includes how to treat whiplash.



---
Important, please read.
After purchasing this course you'll receive an email from orders@nullohashiatsu.org. This email will contain the Zoom meeting links for all 4 classes. The Zoom meeting link changes for each class. Please keep a record of your email confirmation so you may join the correct meeting on the assigned day. You'll be able to join each meeting 10 minutes before its scheduled start time. After registering for the full course you'll have access to the Zoom cloud recordings.
How to prepare:
Please prepare scarves in 3 lengths — one of each should be adequate. If needed, you can tie two scarves together to make a longer one. Material:  Soft enough to be easily manipulated. Can be cotton, muslin, or synthetic. For the neck, fabric must be soft enough not to irritate the skin.
3 feet  or 1 meter (A traditional Japanese tenugui is 90 centimeters)
5 feet or approximately 2 meters
8 feet or approximately 3 meters
one large pillow, rolled up blanket or other large cushion
This is an online practice class. Please wear loose comfortable clothing. If you do not have a partner to practice with please consider constructing a practice dummy or another way to practice your technique. Please have a good quality camera and good lighting. Consider setting up your phone or camera on a stand.
This course will be taught in English. A recording for review purposes only will be available for a few days of each class.
By purchasing this course you agree to our terms of service listed in our privacy policy.
---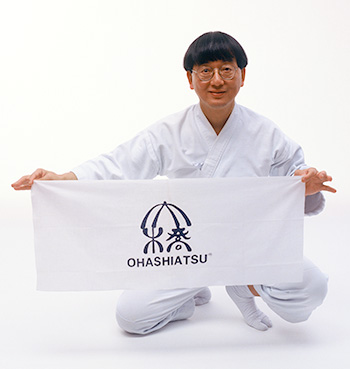 Ohashi is a pioneer in holistic healthcare, who has been teaching his bodywork methods to professionals and lay people for 45 years. He is the founder of the Ohashi Institute and the author of 6 books, all which have been translated into several languages. He is well known in the US and in Europe, where he has a large network of Instructors who teach his method. His clientele has included Martha Graham, Dr. Henry Kissinger, Lisa Minelli, Ani DiFranco and other notables who have sought his help over the years.